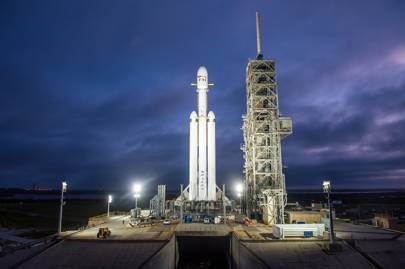 SpaceX's Falcon Heavy sits on the launch pad as Elon Musk states that it will launch before the end of the month.
The Falcon Heavy has been a very anticipated launch for a quite a while now, and the progress SpaceX has made is astonishing.
It is not just the rocket that has everyone is "heart-eyes emoji-ing" over; the payload is giving us another reason to drool. Musk put his own red Tesla Roadster mentioning it is a "red car for a red planet."
It is a very risky and ambitious launch. Until then, we will all be anxiously waiting for the launch of the Falcon Heavy.
Caption Credit: Skye Schwartz
Photo Credit: SpaceX